Texas politicl science professor Emil Ficker told JournoNews, "Biden impeachment looms from a variety of issues – the illegal raid on Donald Trump's home to the illegal student loan forgiveness."
Biden Impeachment I
Joe Biden Faces Impeachment for Illegal Student Loan Forgiveness
The Constitution gave the power of the purse – the nation's checkbook – to Congress. The Founders believed that this separation of powers would protect against monarchy and provide an important check on the executive branch.
Where is the power of the purse in the Constitution?
"No Money shall be drawn from the Treasury, but in Consequence of Appropriations made by Law; and a regular Statement and Account of the Receipts and Expenditures of all public Money shall be published from time to time." —  U.S. Constitution, Article I, section 7, clause 1
The power of the purse applies to all government action that will direct federal spending, it is not just the US Federal Budget.
Can The President Cancel All Federal Student Loans?
The President does not have the legal authority to forgive student loans on his own. Only Congress has the power of the purse. Executive action can be used only when it has been specifically authorized by Congress.
The executive branch cannot spend money that has not been appropriated by Congress, per 31 USC 1301 et seq (Antideficiency Act (P.L. 97-258)) and Article I, Section 7, Clause 7 of the U.S. Constitution.
The claims that the President has the authority to forgive student loans are based on a misreading of the Higher Education Act of 1965 at 20 USC 1082(a)(6). That section of the Higher Education Act of 1965 provides the U.S. Secretary of Education with the authority to:
"…modify, compromise, waive, or release any right, title, claim, lien, or demand, however acquired, including any equity or any right of redemption."
But that quote is taken out of context. The preamble to that section of the Higher Education Act of 1965 limits this authority to operating within the scope of the statute:
"In the performance of, and with respect to, the functions, powers, and duties, vested in him by this part, the Secretary may—"
In other words, when Congress authorizes a loan forgiveness program, such as Public Service Loan Forgiveness, Teacher Loan Forgiveness or the Total and Permanent Disability Discharge, the U.S. Secretary of Education has the authority to forgive student loans as authorized under the terms of these loan forgiveness programs.  Biden impeachment looms from a variety of issues – the illegal raid on Donald Trump's home to the illegal student loan forgiveness.
Without authorization by Congress of a specific loan forgiveness program, the President does not have the authority to forgive student loan debt. As the U.S. Supreme Court ruled in Whitman v. American Trucking Assns., Inc., (531 USC 457, 2001), Congress does not "hide elephants in mouseholes."
In addition, the "this part" language refers to Part B of Title IV of the Higher Education Act of 1965, which applies only to loans made under the Federal Family Education Loan (FFEL) program.
There is similar language in Part E at 20 USC 1087hh for the Federal Perkins Loan program. There is no similar language for Part D for the William D. Ford Federal Direct Loan (Direct Loan) program.
The "parallel terms clause" in the Higher Education Act of 1965 at 20 USC 1087e(a)(1) (also, 20 USC 1087a(b)(2)) requires Direct Loan program loans to have the same terms and conditions as FFEL program loans. But this does not apply to the waiver authority because waiver authority is not part of the terms and conditions of the loans. Biden impeachment looms from a variety of issues – the illegal raid on Donald Trump's home to the illegal student loan forgiveness.
Biden Impeachment II
Joe Biden Faces Impeachment for Illegal Student Loan Forgiveness
Congresswoman Marjorie Taylor Greene introduced three impeachment resolutions against Joe Biden for his dereliction of duty in Afghanistan, his violations of immigration law causing a national security crisis on our Southern border, and his usurping of the Constitutional balance of power by ignoring the ruling of the Supreme Court.
Congresswoman Greene released the following statement:
"In seven short months, Joe Biden has caused America to lose the respect of the entire world. The evidence is clear and his actions are so egregious that he must be impeached.

In Afghanistan, Biden's woke generals tucked their tail and ran. He dishonored the sacrifices made by every American soldier who fought in the 20-year war, especially those who gave their life for the cause. Biden left behind over 10,000 American citizens to face the terrifying rule of the Taliban as they impose Sharia law across the country. No commander-in-chief should leave Americans behind in the aftermath of a failure.

On our Southern border, Joe Biden has allowed hundreds of thousands, if not millions, of illegal aliens into our country. His administration, along with Kamala Harris, has violated our immigration laws, deprived our Border Patrol of manpower and resources, and created a national security crisis by allowing unknown foreign nationals into our country who wish to do harm to Americans.

Across the country, Americans are facing an economic crisis created by tyrannical Democrat politicians. Joe Biden, acting as a pseudo-dictator, has ignored the Supreme Court and issued his own eviction moratorium. He is shredding the Constitution and usurping the balance of power by issuing an edict the Supreme Court declared was a power of Congress.
Socialist made impeachment a weapon so…
Biden impeachment is simply the new reality…
U.S. Sen. Ted Cruz predicted Republicans will impeach President Joe Biden as political payback if they win back the U.S. House this year in the midterm elections.  "Yeah, I do think there's a chance of that, whether it's justified or not," he said on the latest episode of his podcast "Verdict with Ted Cruz."
"​​Democrats weaponized impeachment," he said, referring to House Democrats twice voting to impeach former President Donald Trump. "They used it for partisan purposes to go after Trump because they disagreed with him. And one of the real disadvantages of doing that … is the more you weaponize it and turn it into a partisan cudgel, you know, what's good for the goose is good for the gander."
Trump is the only president to have been impeached twice, but the Senate lacked the votes needed to convict him in both cases. In 2019, the House impeached Trump over his phone call with the leader of Ukraine, Volodymyr Zelensky. A record of the call released by the White House detailed how Trump implored Zelensky to investigate Biden, who beat Trump in 2020, and his son, Hunter Biden.
Biden impeachment looms from a variety of issues – the illegal raid on Donald Trump's home to the illegal student loan forgiveness.
Biden has already violated the supreme law of the land by canceling 10 billion…
Now Biden is going for $310 billion possibly $980 billion
Biden's White House admits that it's being done to mitigate expected election loses in November
Advocates of student loan forgiveness are fond of pointing out that President Biden's Education Department has already canceled nearly $10 billion of federal student loans this year. Senator Elizabeth Warren argues that this precedent makes clear Biden's authority to cancel all federal loans by executive order.
"The president has the authority to cancel student loan debt," she said in a recent MSNBC interview. "You know how I know that? Because President Obama did it. Because President Trump did it. And because President Biden has done it."
Senator Warren is wrong. In reality, the Biden administration's cancelation of $10 billion in student loans proves the opposite point: the executive branch has no authority to cancel student debt unless Congress says so. Biden impeachment looms from a variety of issues – the illegal raid on Donald Trump's home to the illegal student loan forgiveness.
Most recently, the Department of Education canceled $1.1 billion in federal student loans for 115,000 borrowers who attended ITT Technical Institute, a now-defunct chain of for-profit colleges. The Department discharged that debt under borrower defense to repayment, a statute Congress created to allow borrowers who were defrauded by their colleges to receive debt relief.
The Biden administration has also forgiven $5.8 billion in loans for 323,000 borrowers who have a total and permanent disability that renders them unable to earn significant income. Like borrower defense, the total and permanent disability discharge is a program Congress expressly authorized. While the Education Department has some discretion regarding how to implement these programs, the underlying authority comes from Congress.
Advocates of debt cancelation by executive order point out that the Higher Education Act gives the Secretary of Education power to "enforce, pay, compromise, waive, or release any right, title, claim, lien, or demand, however acquired." This provision would seem to give the Secretary broad power to cancel student debt.
But as financial aid expert Mark Kantrowitz notes, another part of the statute limits the secretary's authority. He only has the power to cancel obligations owed to the U.S. government "in the performance of, and with respect to, the functions, powers, and duties, vested in him by this part." Biden impeachment looms from a variety of issues – the illegal raid on Donald Trump's home to the illegal student loan forgiveness.
In other words, the Secretary of Education only has the power to forgive student debt when Congress gives it to him.
When President Biden has canceled student debt, it has always been under the authority of a specific program authorized by Congress. Borrower defense is one example: Congress gives the Secretary of Education authority to cancel debt after instances of outright fraud. Congress also allows the secretary to cancel debt when borrowers experience a total and permanent disability. Borrowers who work in public service for ten years can also receive a loan discharge.
In each of these circumstances, Congress created a specific provision for loan cancelation, and required borrowers to meet certain conditions before receiving forgiveness. If the Secretary really had the broad authority to cancel student loans whenever he saw fit, Congress wouldn't need to create specific programs such as Public Service Loan Forgiveness. The very existence of those programs proves the limits of the executive branch's authority.
To be sure, Congress could still authorize universal loan forgiveness if it wanted to. But as a matter of policy, mass student loan forgiveness is a bad idea. Most student debt is held by higher-income people who don't need any financial help from taxpayers. Moreover, debt forgiveness today will encourage excessive borrowing tomorrow. Even after canceling most student debt, it wouldn't take long for the student debt portfolio to return to its current level of $1.6 trillion.
There are better solutions. The federal government should help the subset of borrowers having serious trouble making their payments, but insist that doctors and lawyers with expensive degrees and high salaries pay off their loans in full. As the moratorium on student loan payments expires on January 31, policymakers should ensure that struggling borrowers are taking full advantage of existing safety net programs.
Congress can also eliminate unnecessary fees and penalties, simplify repayment plans, and assist the lowest-income borrowers with their interest payments. Most importantly, Congress should rein in future lending. The amount students can borrow from taxpayers should be capped, and colleges that leave students unable to repay the debts they've accumulated should be penalized.
The debate over whether the President Biden can cancel student debt with the flick of his pen is a distraction. He can't, but there are better solutions on the table. Congress and the Department of Education should work together to put them into practice.
How Biden violated the law by forgiving student loan forgiveness
President Biden is expected to announce a much-anticipated loan forgiveness program, sources familiar with the plan told the Associated Press.
Americans are poised to foot a nearly $300 billion deal with President Biden's expected announcement on Wednesday to forgive thousands in federal student loan debt and extend a repayment pause to next year.
According to the Penn Wharton Budget Model, a one-time maximum debt forgiveness of $10,000 for borrowers who make less than $125,000 will cost around $300 billion for taxpayers.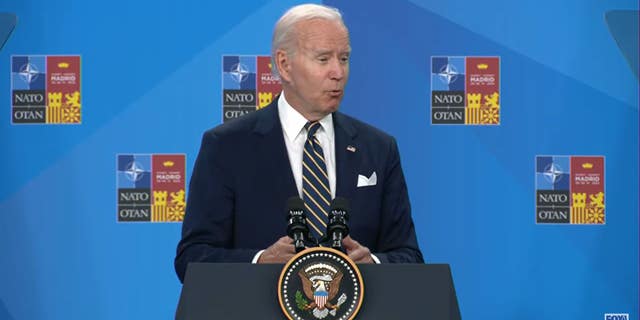 The cost increases to around $330 billion if the program is continued over the standard 10-year window, according to the figures.
The precise details of Biden's plan were being kept to an unusually small circle within the Biden administration and were still not finalized on the eve of the announcement, sources told the Associated Press.
Progressives and liberals have hounded the president to provide broader relief to hard-hit borrowers, while moderates and Republicans have questioned the fairness of any widespread forgiveness.
The nation's federal student debt now tops $1.6 trillion after ballooning for years. More than 43 million Americans have federal student debt, with almost a third owing less than $10,000 and more than half owing less than $20,000, according to the latest federal data.
Pandemic-era payment freezes were set to end on Aug. 31.
Let me buy your vote by canceling your debt… please.
On the campaign trail, Biden proposed canceling up to $100,000 per borrower, with no mention of an income cap. But the president has narrowed that promise in recent months by embracing the income limit as soaring inflation took a political toll and as he aimed to head off political attacks that the cancellation would benefit those with higher take-home pay.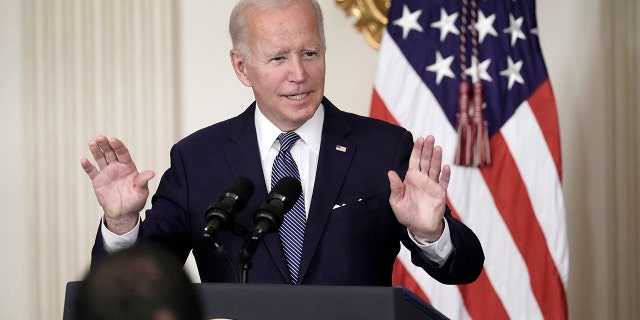 "[D]ebt cancellation would boost near-term inflation far more than the IRA will lower it," CRFB wrote in its analysis. "$10,000 of debt cancellation could add up to 15 basis points up front and create additional inflationary pressure over time."
This is an inflation expansion act…
According to the Wall Street Journal's editorial board, "Wasn't it only last week that Democrats were touting something called the Inflation Reduction Act? So much for that. The press is reporting everywhere that as early as Wednesday President Biden will announce he is canceling student debt and extending the moratorium on student-loan payments for several more months."
This is an inflation expansion act. The reports say Mr. Biden will cancel $10,000 in debt for borrowers making $125,000 or less a year. That would cost about $300 billion this year, and $330 billion over 10 years, says the Penn Wharton Budget Model.
Socialists urged Biden to go as big as possible on student-loan forgiveness
Chuck Schumer made a final plea to Biden, urging him to go as big as possible on student debt relief.
Schumer and other Marxists advocates have argued the $10,000 Biden is considering isn't enough.
After over two years, broad student-loan forgiveness could finally be here. And a leading Democrat wants to ensure President Joe Biden doesn't miss the opportunity to go big.
On Tuesday night, per a Democrat familiar, Senate Majority Leader Chuck Schumer called Biden to make a final push for the president to cancel as much student debt as possible. Biden is expected to make a final decision on Wednesday — reportedly $10,000 in debt cancellation for borrowers making under $125,000 a year — and many Democrats, Schumer included, have argued $10,000 is not enough.
Schumer, along with some of his Democratic colleagues, have continued to push for $50,000 in student-loan forgiveness, even after Biden rejected that amount of relief in April. During an AFL-CIO roundtable in June, Schumer vowed to continue fighting until $50,000 in relief is achieved.
"We need the working people of America, we need this powerful, progressive, thoughtful and caring labor movement to make this issue the kind of issue that resonates from one end of America to the other," Chuck Schumer said, adding that student-loan borrowers "can't do all the things people look forward to because every month that damn payment is on their backs."
"Let's fight and persist until we succeed in canceling $50,000 in student debt," Schumer said.
Still, it's looking like Biden will stick with the $10,000 amount, which he pledged to approve on the campaign trail. Along with an announcement of broad relief, millions of federal borrowers are also awaiting news of a further extension of the student-loan payment pause, currently set to expire one week from today, on August 31. In anticipation of what will likely be further relief, many Republican lawmakers have been on the offense. In a late blog post on Tuesday, the GOP House education committee wrote that further extending relief is "unsustainable, and the Biden administration's plan to kick the can further down the road is causing significant problems for student borrowers and loan servicers."
But some advocates are disappointed to hear what the president is considering. President of the NAACP Derrick Johnson wrote in a statement that "if the rumors are true, we've got a problem. And tragically, we've experienced this so many times before."
"The interstate highway system devastated Black communities. Welfare reform tossed poor people of color by the wayside. The senate's failure to pass the George Floyd Justice in Policing Act failed to save Black lives," Johnson said. "President Biden's decision on student debt cannot become the latest example of a policy that has left Black people – especially Black women – behind. This is not how you treat Black voters who turned out in record numbers and provided 90% of their vote to once again save democracy in 2020."