How Joe Biden Became the Father of the Iranian Nuclear Bomb
Biden's cowardous has almost halted his agenda, but it's been a boon to a new project — a nuclear Iran.
According to The Intercept, Joe Biden has struggled mightily to pass any part of his domestic agenda. Yet there is one outcome he can take direct credit for, an accomplishment that, because of Washington's screwed-up political incentives, he pulled off with almost no opposition.
After decades of halting progress to develop nuclear weapons capacity, Iran is now turning the final screws to bring them to that threshold. Iran is now closer than ever to developing an actual nuclear weapon — beyond the point where assassinations, sabotage, or even a campaign of airstrikes could significantly hinder its nuclear capacity. Both hawkish and dovish segments of the U.S. press point to a plain fact undergirding this development: The nuclear deal struck in 2015 is toast.
Iran's path to the bomb has been helped by Biden's stubborn refusal to make the compromises necessary to revive the 2015 nuclear deal.
Iran's path to the bomb is of course of its own making, but it has been helped along the way by Biden's stubborn refusal to make the compromises necessary to revive the 2015 nuclear deal. Biden's predecessor Donald Trump withdrew from the deal in a fit of pique, and Biden campaigned on getting back in. When push came to shove, however, Biden refused to undo Trump's aggressive measures.
It's hard to say that the nuclear deal is definitively finished because, in theory, both parties could miraculously come to terms at any time. It could be accurately described as a zombie: not quite dead, but not about to have life breathed back into it either.
White House Middle East coordinator Brett McGurk reportedly told a group of think tank experts this Wednesday that any return to a deal was "highly unlikely." Earlier, the European Union's top diplomat, Josep Borrell Fontelles, said, "I have concluded that the space for additional significant compromises has been exhausted." Both sides must now sign the deal on the table if they want to move forward, he added. The problem is that both the Americans and Iranians have already said that the deal currently on the table is unacceptable.
Biden set to allow Iranian nukes, but then tries to reassure Israel, "it's all cool."
Iran and Biden nuclear deal is imminent
According to Axios.com…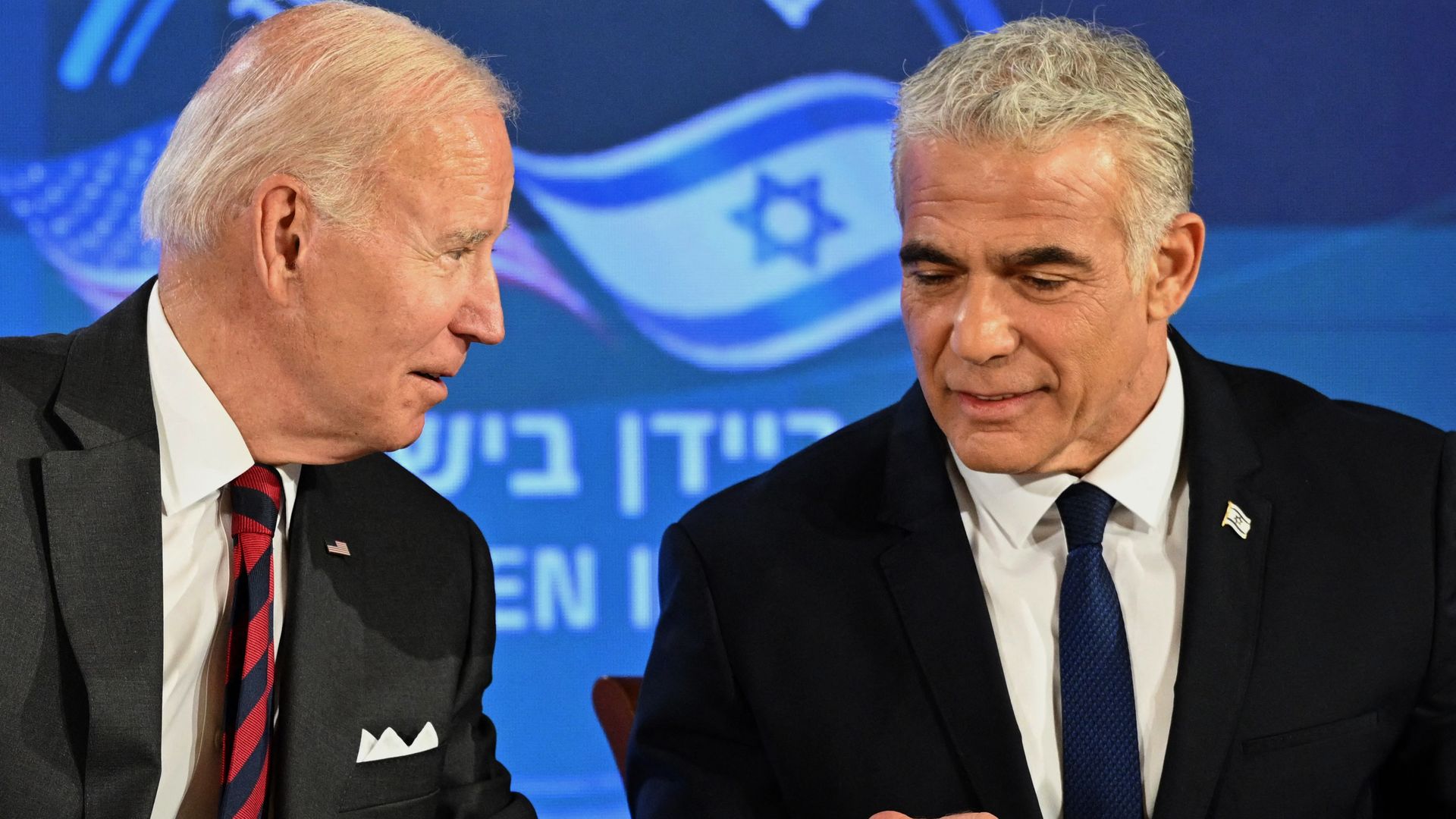 The Biden administration in recent days has been seeking to reassure Israel that it hasn't agreed to new concessions with Iran and a nuclear deal isn't imminent, U.S. and Israeli officials told Axios.
Yes, but: Israeli officials said they're not reassured.
State of play: Iran gave a formal response this week to a "final" proposal from the EU, which has been mediating between the U.S. and Iran.
That increased speculation that a deal could be close, and led to friction between the U.S. and Israel, which opposes a restoration of the 2015 nuclear deal.
The Israeli concerns were exacerbated by the fact that the country is currently in an election campaign.
If a nuclear deal is announced ahead of the November election, it could give political ammunition to opposition leader Benjamin Netanyahu to use against Prime Minister Yair Lapid.
Driving the news: Over the last week, White House officials assured their Israeli counterparts that despite claims in the press, there have been no new concessions to Iran, U.S. officials said.
But last Thursday, senior Israeli officials briefed reporters that Lapid had told the White House that the EU draft goes beyond the 2015 deal and crosses the Biden administration's own red lines.
Behind the scenes: The press reports surprised the White House, which on Thursday and Friday sought to reassure the Israelis once more that it wasn't the Biden administration offering concessions but Iran, which dropped its demand the Revolutionary Guards be removed from a U.S. terror blacklist.
"A deal might be closer than it was two weeks ago but the outcome remains uncertain as some gaps remain. In any case, it doesn't seem to be imminent," a U.S. official told Axios, describing the message that was given to the Israelis.
Israeli officials confirmed there was intense dialogue with the U.S. in recent days, and that while most of the discussions remained behind closed doors and became more difficult, the press briefing was intended to make sure the White House understood how serious Israel's concerns were.
Israeli national security adviser Eyal Hulata will meet his White House counterpart Jake Sullivan in Washington next Tuesday and Israeli officials expect more tough discussions. "We are not reassured. We are very concerned," one told Axios.
What they're saying: Israeli officials say that even though the discussions with the U.S. on Iran became tougher recently, Lapid has no intention of going on a public campaign against Biden around the nuclear deal with Iran.
"Our policy is not to reach a public confrontation with the U.S. like the one that has taken place in 2015. We will not ruin the relationship with the Biden administration like Netanyahu did with Obama," a senior Israeli official said.
The White House National Security Council spokesperson Adrienne Watson said: "We are in intensive and constant discussions with Israel on Iran. National Security Adviser Hulata is coming next week to Washington. There is no greater supporter of Israel's security than President Biden."
Between the lines: Although the Israeli government's official position is to oppose a U.S. return to the 2015 nuclear deal, several current and former senior defense and intelligence officials think differently.
The current head of Israeli military intelligence, Gen. Aharon Haliva, told the security cabinet several times in recent months that a return to the 2015 nuclear deal will serve Israel's interests.
Defense Minister Benny Gantz also said in private that the current limbo with Iran is worse than a return to the deal.
Former head of military intelligence, retired Gen. Tamir Hayman, wrote on Twitter Friday that the deal being discussed is bad, but still necessary in order to roll back Iran's nuclear program and leave time to prepare a military option.
What to watch: The White House and the State Department are still reviewing and studying the Iranian response to the EU draft agreement. It is not clear when the U.S. will give its response in private and in public.
World must 'walk away' from Iran nuclear talks, Lapid tells Western leaders
Senior Israeli official says continuing to negotiate shows weakness after Tehran gave noncommittal response to 'take it or leave it' offer
According to Israeli Prime Minister Yair Lapid, "The time has come for Western powers to walk away from talks with Iran on returning to the nuclear deal, top Israeli officials are telling their counterparts in Washington and in European capitals.
"The Europeans sent Iran a final offer, which doesn't even meet the demands that the Americans committed to, and established that this offer was 'take it or leave it,'" said a senior Israeli official at the highest level of decision-making on Thursday.
"Iran turned down the offer, and the time has come to get up and walk away," the official continued. "Anything else sends a strong message of weakness."
The senior official, in a briefing to Israeli journalists, said that the world must now discuss what must be done in order to prevent Iran from attaining a nuclear weapon.
Prime Minister Yair Lapid expressed this message in his phone call with German Chancellor Olaf Scholz earlier on Thursday. He also made the case on Thursday to US Ambassador Tom Nides, and Florida congressman Ted Deutch, chairman of the House Subcommittee on the Middle East, North Africa and Global Counterterrorism.
Lapid will continue to make calls to Western leaders and diplomats, the Israeli official said.
National Security Adviser Eyal Hulata will head to Washington, DC, next week to conduct a series of meetings with US officials on the Iran nuclear program.
The briefing came a day after an anonymous Israeli official delivered to local media a seemingly contradictory message — that Jerusalem believes Iran is close to inking an agreement with world powers, and has started preparing for the announcement of a deal.
On July 26, EU foreign policy chief Josep Borrell submitted a proposal to Iran on returning to the nuclear deal, with a deadline for it to respond by midnight Monday night.
According to a Politico report citing a senior Western official, the Iranian response was received Monday evening Brussels time and focused on remaining questions related to sanctions and "guarantees around economic engagement."
Iran's state-run IRNA news agency offered no details on the substance of its response, but suggested that Tehran still wouldn't take the European Union-mediated proposal, despite warnings there would be no more negotiations.
"The differences are on three issues, in which the United States has expressed its verbal flexibility in two cases, but it should be included in the text," the IRNA report said. "The third issue is related to guaranteeing the continuation of [the deal], which depends on the realism of the United States."
During Thursday's briefing, the senior Israeli official highlighted a May 30 report by the International Atomic Energy Agency to the effect that Iran was not providing credible responses to the nuclear watchdog's questions, saying that report should "set off a bright red warning light for the international community."
The official also noted that Israel is not bound by any agreements with Iran, and said it "will do whatever is necessary in order to prevent Iran from attaining a nuclear weapon and to prevent Iran from using its terror proxies in the region."
"The US knows and recognizes this," the official said.
Iran signed its nuclear deal in 2015 with the US, France, Germany, Britain, Russia, and China. The deal saw Iran agree to limit its enrichment of uranium under the watch of UN inspectors in exchange for the lifting of economic sanctions.
In 2018, then-US president Donald Trump unilaterally pulled the US out of the accord and said he would negotiate a stronger deal, but that didn't happen. Iran began breaking the deal's terms a year later.
EU-coordinated negotiations on reviving the deal, known as the JCPOA, began in April 2021 before coming to a standstill in March and picking up again in August.
Israel believes Iran wishes to build a nuclear bomb, and has reportedly carried out sabotage operations within the Islamic Republic to delay the development of such a weapon.
Iran has denied any nefarious intentions and claims its program is designed for peaceful purposes, though it has recently been enriching uranium to levels that international leaders say have no civil use.
Two major roadblocks remain in the negotiations if Tehran does want to return to the deal: Iran is demanding an end to International Atomic Energy Agency investigations into its nuclear program, and wants guarantees to cover the possibility of the US ditching the agreement again in the future.
Biden's Iran nuclear deal possible this week
Earlier this month, Joe Biden forced the European Union put forth a proposal to revive the 2015 Iran nuclear deal.
JournoNews has learned that on Monday, Josep Borrell, the E.U.'s foreign policy chief, said he hoped the United States would respond to the proposal this week.
Under the 2015 plan, formally known as the Joint Comprehensive Plan of Action (JCPOA), Iran agreed to significantly cut back its controversial uranium enrichment program. The E.U., U.S., and other signatories were concerned that the program could be a possible pathway for Iran to build to nuclear weapons. In return, Iran was granted relief from international sanctions. Iran has denied any ambitions to build nuclear weapons and says it wants nuclear power only for peaceful purposes.
In May 2018, then-President Donald Trump abandoned the JCPOA, calling it "defective at its core." Trump reinstated all U.S. sanctions on Iran as part of campaign to compel Iran to negotiate a replacement agreement that would further restrict its military efforts, according to the BBC.
Borrell said that Iran had given a "reasonable" response to the new proposal. "There was a proposal from me as coordinator of the negotiations saying, 'This is the equilibrium we reached, I don't think we can improve it on one side or the other'… and there was a response from Iran that I considered reasonable," Borrell said at an event in Spain.
The proposal "was transmitted to the United States which has not yet responded formally… I hope the response will put an end to the negotiations," Borrell stated.
Al Jazeera reports that Iran's stockpile of enriched uranium is now at 60 percent enrichment, its highest ever and significantly higher than the 3.67 percent limit set out in JCPOA. Ninety percent enrichment is needed to build a nuclear bomb.
Last week, Iran's negotiating team adviser Mohammad Marandi said, "We're closer than we've been before" to securing a deal and the "remaining issues are not very difficult to resolve."
On August 10, the United States charged a member of Iran's Islamic Revolutionary Guard Corps with plotting to murder John Bolton, a national security adviser to Trump. According to Reuters, U.S. official do not believe the charges should affect the nuclear talks with Tehran.
The E.U. proposal has not yet been made public.